Restaurant
---
"The guest is king!"
Enjoy a culinary and relaxing time at our restaurant! Lean back and leave it to us to fulfill your culinary wishes in our restaurant. Whether a romantic dinner for two, a barbecue on our terrace, a seminar, a large festivity or a dinner event, our restaurant offers the right setting for every occasion. Enjoy our excellent cuisine and let us seduce you culinary...
---
---

- Meinolf Griese, chief cook -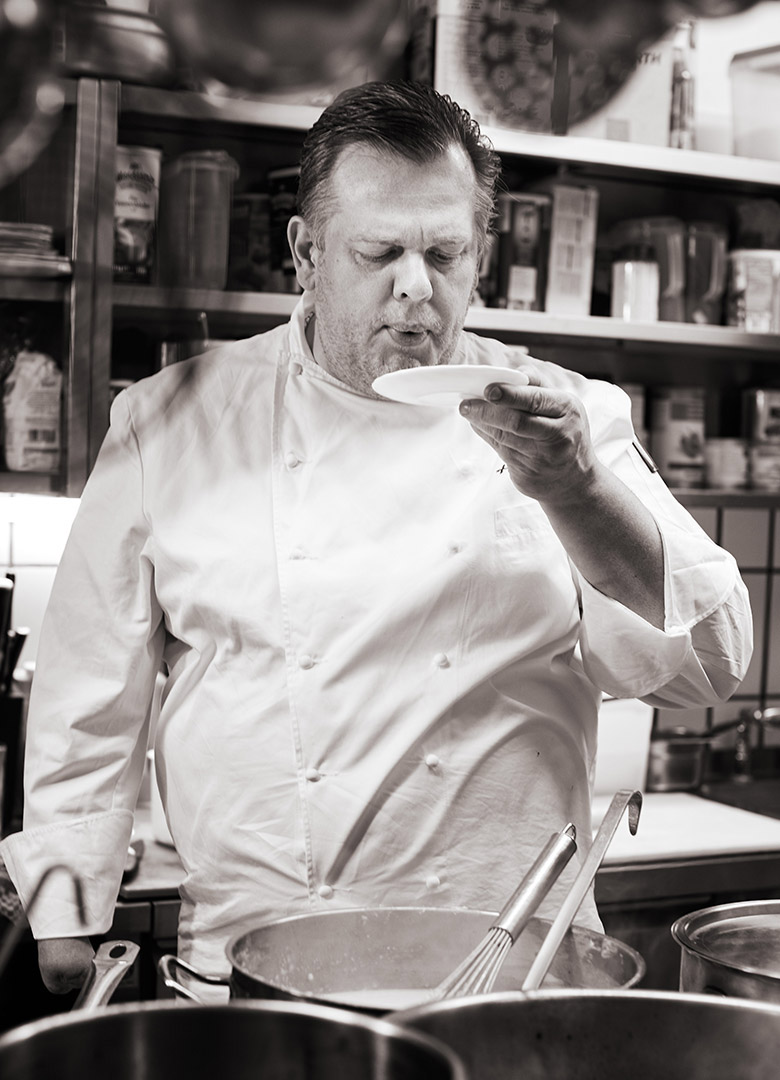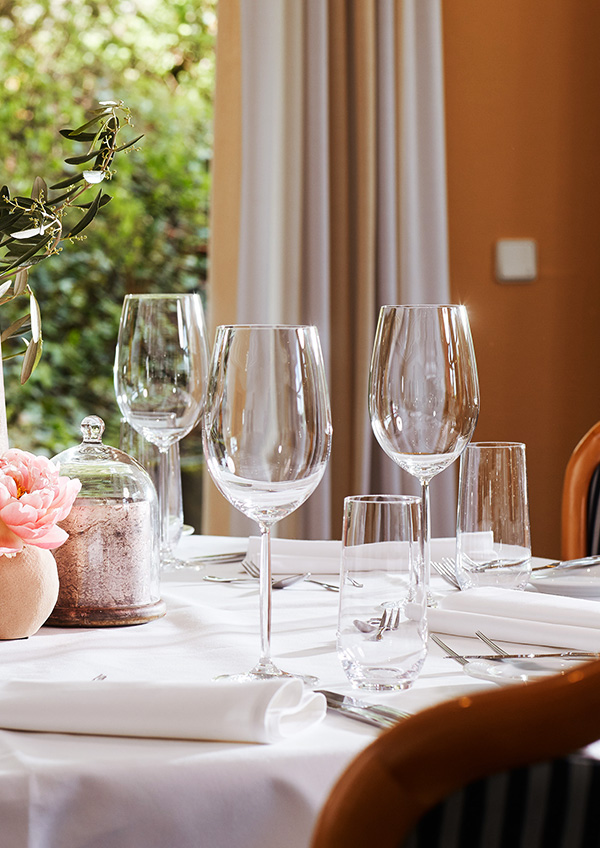 Menu recommendation
---
Amuse Gueule
---
Fresh Börde leaf salads in balsamic vinaigrette with Westphalian smoked trout and dill-mustard sauce
---
Braised ox cheeks in onion-pepper jus with colorful Markl vegetables and rosemary fried grated potatoes
---
Fresh warm chocolate souffle with berries
and vanilla ice cream
---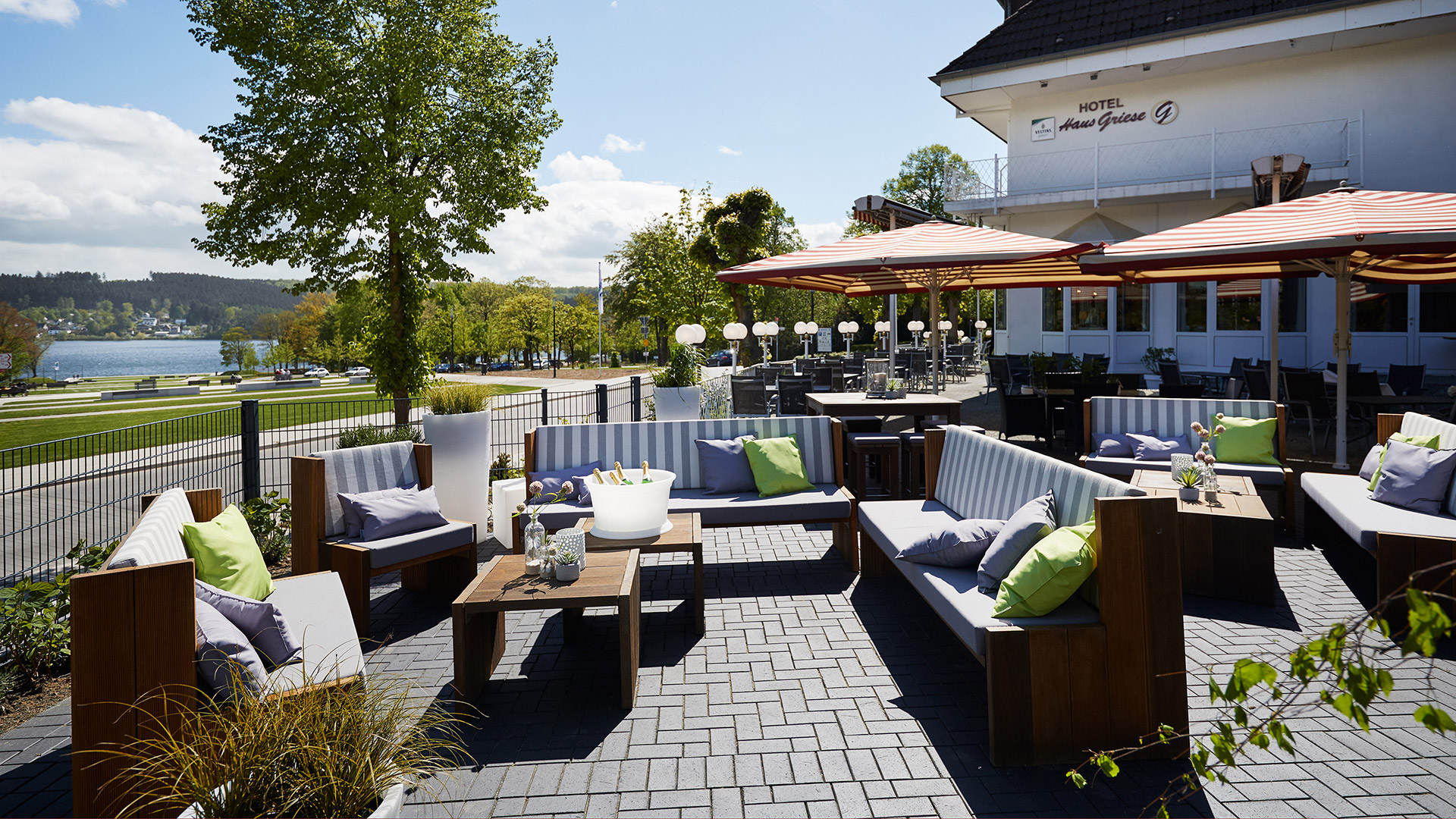 Vesper dishes
---
Large mixed salad plate with fried chicken breast strips,
baguette and butter
---
Oven fresh tarte flambée "Indian Summer"
with Börde pumpkin, walnuts and cheese
---
Homemade chicken burger with camembert
and cranberries, salad and dip
---
Sauerland ham slice
with garnish and fried egg

Starters
---
Fried goat cheese with
caramelized walnuts on salad in raspberry vinaigrette
---
Baumüller's smoked trout
with cream horseradish, wild herb salad and mini fried grated potatoes


---

Roasted duck liver on "Himmel & Erde"
(a traditional dish in germany) with own jus and roasted onions

---

Our shrimp pan
with herb butter, olives and cherry tomatoes
Soups
---
Cream soup of free-range duck with chowder and croutons

---

Beef broth "Körbecke Style" with marrow dumplings and egg sticks

---

Fresh pumpkin cream soup with blue chips
Vegan & Vegetarian
---
Homemade potato
and rosemary fried grated potatoes with
roasted mushrooms and vegetables

---

Vegan tarte flambée
with cherry tomatoes, onions, garlic and arugula salad

---

Vegetable lasagne au gratin
with grilled vegetables, garlic, blue chips and buffet salads

---

Our baked potato
with spicy grilled vegetables and herb curd, salads from the buffet

---
Fish & Seafood
---
Fish & Chips baked perch
with herb dip with French fries juliennes
and salad buffet.
---
Fried plaice
in bacon butter with lemon, mixed salads
and boiled potatoes
---
Grilled noble fish
with prawns in fresh lobster sauce
with buffet salads and pasta
---
Pike perch fillet
under potato crust on sweet potato puree
with salads from the buffet
Main Dishes
---
Roasted poulard breast
on cherry tomato sauce with basil, buffet salads and vegetables
---
Original Sauerland sika deer raguût
with cranberries and stuffed pear, red cabbage and dumplings
---
Mixed fillet tips
in Madagascar pepper cream with colorful vegetables and croquettes, salads
---
Boiled Sauerland veal boiled fillet
in apple-horseradish sauce, vegetables and boiled potatoes
---
Sirloin medallions
with wild mushroom cream, mixed salads,
vegetables and bread dumplings
---
Oven-fresh roast duck in its own jus
with spiced chestnuts, red apple cabbage and potato dumplings
---
Pink roasted steaks of ox filet "Strindberg"
under onion-mustard crust with jus and fried grated potatoes
Dessert
---
Homemade berry grits
with bourbon vanilla ice cream
---
Homemade "Panna Cotta"
on compote of Börde pumpkin with cinnamon ice cream
---
Homemade caramel parfait
with fruits and mint cream
---
Our crème brûlée
with fruit salad and Sauerland blueberry ice cream
Gourmet Catering Service
---
If you cannot be with us, we will come to you with our homemade food.
Our gourmet catering service is at your disposal, whether business events or private celebrations, we will take care of the physical well-being of your guests.
If you like, we will not only deliver the mutually discussed buffet, but also cook individually for you and your guests in your kitchen.
To let you know what you could expect, we have prepared two buffet examples for you:
Grand gala buffet
---
Soup:
We serve a fresh potato and porcini mushroom soup with sage crôutons for all festive guests
---
Cold fish buffet:
Turbot in one piece, Norwegian salmon in herb foam, Breton lobster, "Symphony in smoke" of noble fish, noble fish terrines, Fine North Sea shrimp cocktails and pickled wild salmon.
---
Salad buffet:
A selection of fresh and dressed salads with different dressings!
---
Cold meat buffet
French Bresse poularde à la orange, Scottish rack of lamb in ratatouille, Southern French Charentais melon with ham, Pink roasted saddle of venison on wild cranberries.
---
Warm buffet:
Sauerland roast venison on apple-red cabbage, mixed filet tips in forest mushroom-herb cream, grilled salmon medallion on creamed spinach, giant prawns wrapped in bacon, oven-fresh potato gratin, homemade noodles and buttered spaetzle
---
Dessert buffet:
Assorted chocolate mousse, Bavarian créme on sour cherries, cappucino rolls, filled profiteroles, exotic fruit salad, homemade ice cream cake, French raw milk cheese.
---
Please feel free to ask for an individual offer
(starting with 20 participants!)
Westphalian buffet
---
Soup:
Westphalian bouillon
---
Cold fish:
Fresh salmon trout in herb foam, Möhne smoked trout, stuffed Möhne pike perch in one piece
---
Salads:
A selection of fresh and dressed salads with different dressings!
---
Cold meat:
Honey melon with Sauerland ham, Westphalian roast beef with pickled vegetables, original blood and liver sausage, homemade aspic
---
Warm buffet:
Mixed fillet tips in forest mushroom-herb foam, Baked sourdough ham in prune sauce, Oven-fresh potato-zucchini gratin with garlic, new potatoes and butter noodles
---
Dessert:
Homemade red fruit jelly with vanilla sauce, Westphalian cottage cheese crème dish, pumpernickel parfait, fruit salad and Westphalian cheeses.
---
Please feel free to ask for an individual offer
(starting with 20 participants!)